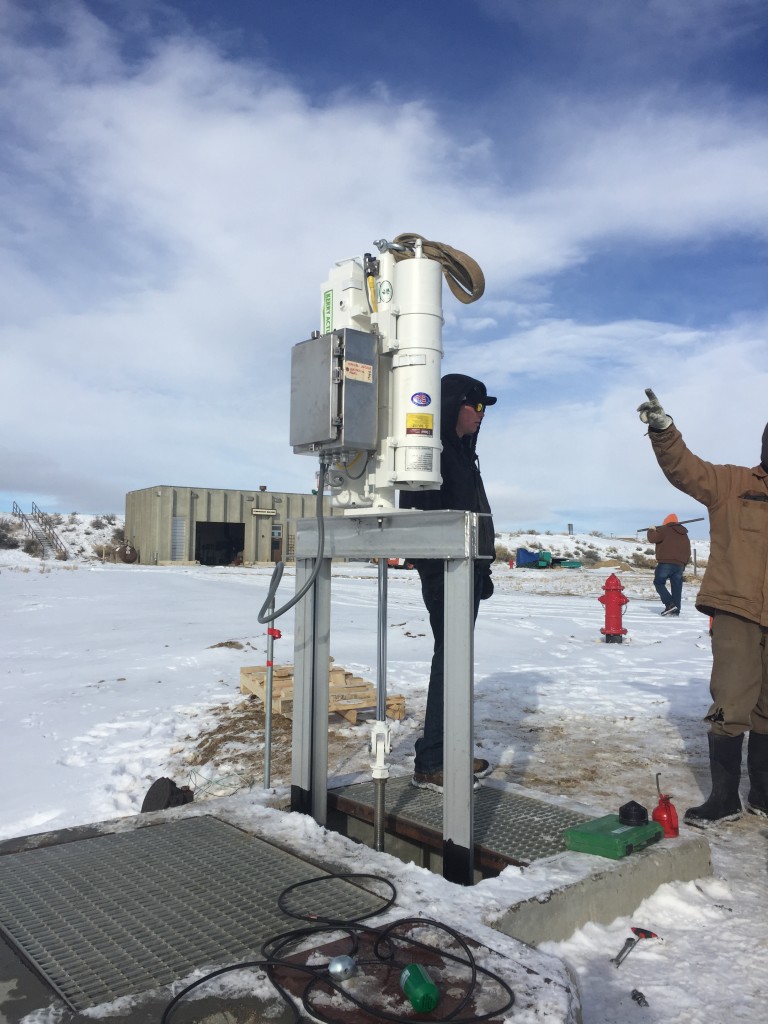 Customer: City of Rawlins, WY
Application Description: One of our common applications for our Kerry Actuator is operating gates for our customers. We recently provided a solution to the municipality of Rawlins, WY for one of their sewage gates. This mid-sized gate was previously operated manually via a large and labor intensive hand wheel and they approached us to come up with a solution to help them automate their gate. The Kerry Actuator they installed was the last piece of the puzzle for their plant upgrade. The entire system is now automatic or remote controlled.
This critical gate provides a safety shutoff for the amount of sewage entering their containment unit where it will be processed. With the help of their new Kerry Actuator this process can be controlled remotely, definitely helpful in an area where the temperatures are often below -20 degrees Fahrenheit! This unit in particular is a fail-safe actuator, equipped with an optional accumulator that enables the actuator to automatically close the gate in the event of a power outage to protect their downstream equipment.
Quick Facts:
Model #: CD-28-FS
Stroke: 28"
Force: 500 lbs. Extend / 1,500 lbs. Retract (adjustable to 2,000 lbs. in each direction)
Speed: Extend speed: 30 seconds for full stroke adjustable to 7 seconds / Retract speed: 7 minutes for full stroke adjustable to 1 minute 30 seconds.
Power: ½" HP 120/1/60VAC Motor
Mount: Flange mounted to meet customer's required footprint. Unit uses a custom clevis adapter to mate with existing gate shaft.
Optional Accessories:
– Accumulator
– Control Panel – Factory Mounted and Pre-wired for Operation
– Integrated cylinder mounted GO switch